Garfield High School
In Memory
Kenneth Church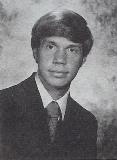 Kenneth Church, 48, passed away March 12, 2008.
Born in Akron, he was employed by the Akron Beacon Journal and was a member of the Firestone Park Christian Church.
Preceded in death by his parents, Conley Church, Jr. and Betty Rich Church, grandparents, Conley and Mamie Church and Homer and Anna Rich, Kenny is survived by sons, Casey Dale and Jack Ryan Church; ex-wife and mother of his sons, Tonja Church; aunt and uncle, Mary Alice and Ed Church; special cousins, Yvonne and Matt; special friends, Jeff and Patty Gramley; also beloved aunts, uncles, cousins and friends.