Garfield High School
In Memory
James Lang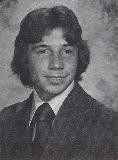 James R. "Jim" Lang

James R. Lang, 38, passed away suddenly Aug. 14, 1998, after an auto accident.
Born in Akron, Jim was a lifetime resident, and a graduate of Garfield High School in 1978. After graduating from the University of Akron, he worked for the City of Akron as a systems analyst. Jim was the football statistician for six years at Buchtel High School and one year at Barberton High School. He also enjoyed bowling and golf. Jim was the scoreboard operator in 1997 for the Akron Aeros.
Preceded in death by his grandparents, Mary and John Horvath, Harry and Helen Lang; and his uncle, Tim Lang, he will be sadly missed by his parents, who love him very much, Dick and Shirley Lang of Green; sister and brother-in-law, Cindy and Mike Pollard; and niece, Nicole, all of Cuyahoga Falls; aunts and uncles, Eva and Harold Conklin, Jim and Betty Phares, Drs. Jean and Tom LoIudice, Rosemary and Lenny McHaddon, Paul and Pat Lang, and Marci Lang; many cousins and friends; best buddy, Doug Mullins; fiancee, Christine Stoll, and her daughters, Tara and Stephanie.