Garfield High School
In Memory
John Zido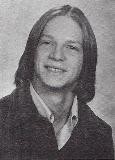 John C. Zido, 48, of Akron, passed away peacefully after a brief illness on August 17, 2008 surrounded by his family.
He was born July 5, 1960 in Akron, Ohio and was a graduate of Garfield High School Class of 1978 where he was a member of the National Honor Society. He was an optician for over 20 years and most recently was employed by LKQ. John was also an excellent mechanic and enjoyed the pool and grilling. He also had a great sense of humor. John was preceded in death by his father, George M. Zido; and a brother, George R. Zido.
He is survived by his two sons whom he dearly loved, Jonathan C. and Nicholas R. Zido; mother, Lelia M. Zido; sisters, Teresa (Lew) Weinkauf and Emily (John) Anderson; brother, Charles (Linda) Zido; pet turtles, Rocky and Bruiser; numerous other relatives and friends.
Cremation has taken place. To leave a special message for the family online, visit www.NewcomerFamily.com